Ornamenta is always a favorite as they deliver a range of beautiful basics to quirky and colorful, and everything in between. Their large slab terrazzo tile looks like one big confetti party and we like it.
Also loved Ornamenta's Memphis-inspired 80s Bacteria tiles, by David Giulio Aquini, finished with red grout.
These Anatolia Tile + Stone black and white tiles can be arranged to form different patterns but we were particularly fond of this one.
Tonalite created a really cool triangular pattern with the Trapez tiles in a monochromatic color palette.
Saloni Ceramica featured this large textured panel with slightly raised curves that created really beautiful shadows.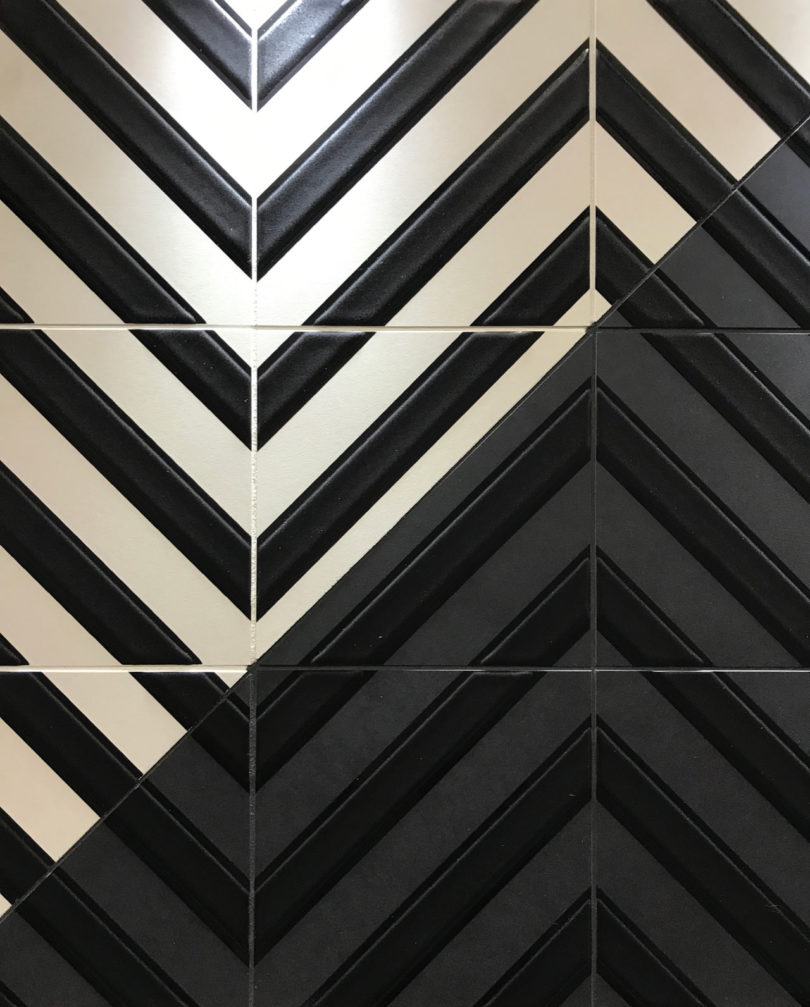 These 8″ x 8″ tiles from Alys Edwards feature raised stripes in either white on white, black on black, or black on white for a dramatic look.
From Ceramica Vogue, Graph are textured floor and wall tiles (available in various colors) that mimic the look of graph paper that were presented in a blue pattern with peach colored grout.
Designed by Fabio Novembre for Lea Ceramiche, Concreto is a collection of large laminated porcelain slabs that are super thin and can be used in a multitude of residential and architectural settings.
Natucer's Triangle tile is available in a flat surface or one with a smaller, carved out triangle. The porcelain tiles seem like a fresh take for anyone wanting white tiles but not the standard rectangular or square shapes.
Does the background of this Vives Cerámica tile look slightly familiar? The series is called Strand and it's made to look like OSB (Oriented Strand Board) with different patterns to choose from.